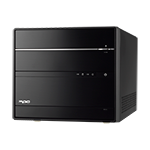 The high performance Mini PC with Intel® Skylake platform
The shuttle SH170R6 supports Intel® Skylake platform technology. This new model is based around Intel® the latest 6th generation LGA 1151 95W processors. When fitted with a Core™ i3/i5/i7 processors, the  built-in graphics core is able to support 4k/Ultra HD video playback. At back panel of shuttle SH170R6 provides Mini DisplayPort outputs  to support 4 independent displays. The shuttle SH170R6 features a PCI-E x16 slot and a PCI-E x4, allowing for installation of dual slot graphics cards, video surveillance cards, RAID cards, and more applications. The shuttle SH170R6 has goodexpandability with one M.2 and one half-size Mini PCIe slots support for M.2 SSD and a WiFi card or other compatible modules. Equipped with Shuttle's I.C.E 2™ cooling engine as well as 80 Plus Bronze certified with a 300W power supply, allows the SH170R6 to feature high energy efficiency and maintain high stability for long-term operation.
Equipped with Intel® 100 series Chipset
The shuttle SH170R6 is equipped with Intel® H170 chipset and supports dual-channel DDR4 2133 with a maximum memory capacity of up to 64GB (16GBx4). It supports Gigabit LAN, SATA 6Gbps, and USB3.0 high-speed storage interfaces, providing superb data transfer speed.
Support PCI-E expansion cards
The shuttle SH170R6 provides 1x PCI-Ex16 and 1x PCI-Ex4 slot to meet various needs of users. The x4 slot may not be available if a double slot graphics card is used.
Built-in Intel® Gigabit LAN interface
With Intel® i219-LM chipset, SH170R6 has a built-in Intel® 10/100/1000 Mbps LAN interface and supports Wake On LAN function to provide high-speed data transfer capability. It also offers a better compatibility for business network environment.
Support Power-on by RTC
Save energy costs as well as the cost of on-site service with Power-On by RTC function. Set automatic 'Power On' and 'Power Off' times by RTC via BIOS. Power on by RTC can also be turned on and off with the Windows task scheduler.
Mini-ITX Mainboard Support
Shuttle expands the capabilities of its chassis, adding support for Mini-ITX mainboards (17×17 cm or 6.7×6.7 inches). Shuttle chassis goes beyond the Shuttle mainboard so you can easily upgrade to the mainboard of your desire without any modifications to the chassis.
Multiple Operating System Support
-Windows 10
-Linux