Drive 4K and Rich Interactive Content with Intel® skylake platform
Focused on 4K vertical markets, Shuttle launches a new generation slim PC DH110, equipped with Intel® H110 chipsets support the latest Intel® 6th generation Skylake LGA1151 65W processors. With Intel® built-in HD graphics engine, DH110 can support 4K/Ultra HD video playback. With a body thickness of only 43mm and VESA mountable design, the DH110 make it easy to fit commercial applications with limited space. Thanks to its robust metal chassis and a wide ambient temperature range from 0 to 50 degree, the DH110 runs reliably cool and stable for a long time operation. With built-in USB 2.0, RS232/422/485, and PS/2 I/O ports, the DH110 has strong connectivity for peripherals to meet the demands of vertical applications.
Support Intel® 6th Generation Core™ processor

Equipped with new LGA1151 socket, the DH110 supports for Intel® sixth-generation (Skylake) Core™ i3/i5/i7, Pentium®, and Celeron® 65W processors. The integrated new generation Intel® HD Graphics is significantly increased CPU or GPU performance. Compared to the previous Haswell/Haswell Refresh processor, the new processor is saved more power.
Slim design and Easy assembly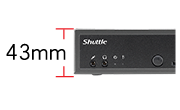 The DH110 features a 1.3-liter slim design and body thickness of only 43mm with significantly less cables and no daughter board. This makes for easy assembly, enhanced thermal efficiency, and system stability due to increased airflow.
Industrial Solid Capacitors = High Stability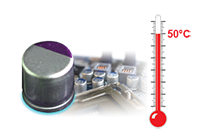 The DH110 uses industrial capacitors in order to meet the environmental operation demands of commercial applications. Its rugged design allows for 24/7 stable operation over long periods of time – even in 50⁰C environments*.
* With use of SSD and Wide Range Temp. SODIMM
Support dual independent displays

The DH110 provides one DisplayPort and one HDMI video outputs to support dual independent screens. Use an adaptor to convert HDMI into DVI interface and DisplayPort into HDMI or DVI interface for diversified signal selection.
Great connectivity

With multiple USB2.0 ports, USB3.0, PS/2 ports, as well as two RS232 (one RS232 and one RS232/422/485, both support 0V/5V/12V), the DH110 can easily connect to peripherals such as thermal printers, label printers, and bar code scanners. An adaptor can be used to convert RS232 to USB port for supporting more devices.
24/7 Nonstop Operation

Officially approved for 24/7 permanent operation. Thanks to Shuttle's low power consumption design and stable operation, the PC runs highly reliable and meets the long-term demands of digital signage or other vertical applications.
External Power button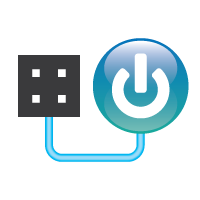 The external power button is key for vertical applications where the power on button is often out of reach. The DH110 has a power-on from remote line feature, enabling users to power on from a separate location. Users can find four-pin-connector at the back panel of DH110. In addition, this connector also provides the Clear CMOS function. Without opening the chassis, users can reset the BIOS settings.
VESA Mount Capability

The compact 43 mm thick DH110 has multiple screw holes specially designed on the side of the machine. The design is VESA mount compliant and allows for versatile integration into hardware systems. This space saving capability is well-suited for application of digital signage with limited space.