The Perfect Fit for Any Space
Gigabyte GB-BSi5-1135G7 is a  modern design with metal and plastic parts. It is compact enough to fit perfectly in any environment from home to a retail store,  can be placed horizontally or vertically according to your needs every time. It features a VESA mount so it can be attached to the back of the display or almost anywhere! The BSi3-1115G4 can serve the most demanding applications with its high processing power and the multiple display support..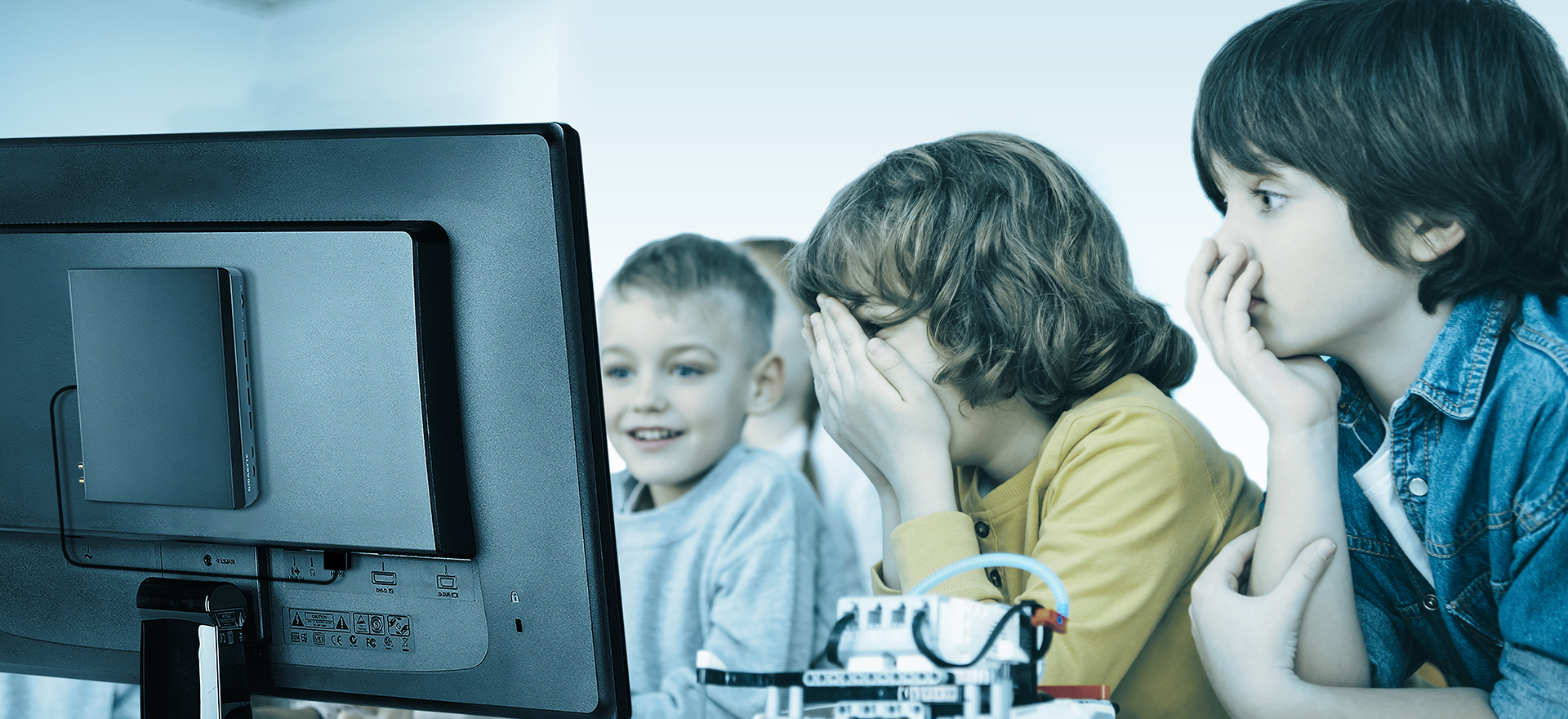 Vertical Markets
.School
.University computer labs
.Libraries
.Hospital / Medical equipment
.Governmental
Powerful Commercial Applications
.Factory testing machine
.Bank ATM system
.Gaming equipment
.Vending machine
.Security system
At the Office
.Meeting room device
.Workstation
.Studio
.Freelance office space
Tiger Lake U-Processor Overview
Simpler and Smarter Digital Life
.Shopping mall signboard
.Scoreboard system
.Split-flap display
.Indoor / Outdoor LED Display
Tiger Lake platform delivers industry transforming intelligent compute and innovates experiences that revolutionizes the Modern PC with significant improvements in AI, Graphics, and Media performance and capabilities that are unlocked with intelligent optimization tools.
CONNECTIVITY
Wi-Fi6, PCIe Gen 4
Dual gigabit Lan
Thunderbolt 4 support
4x HDMI video outputs
Performance
Tiger Lake U-processor series, that are equipped on the GIGABYTE BRIX PRO SBC Commercial PC series, outperform its predecessors. On both single-threaded and multi-threaded tasks Tiger Lake platform is faster up to more than 40%.
Intel Iris Xe Graphics
Tiger Lake U-processor series introduce a new integrated graphics architecture, the Iris Xe. Iris Xe is stronger than the previous UHD 620 IGP. 4X faster with better performance/watt is capable to offer amazing results on your daily tasks than ever before. Moreover, new Iris Xe supports native 4 independent output capacity.
PCIe Gen 4 x4 for NVME
Gigabyte GB-BSi5-1135G7 Commercial PC series are focused on delivering the fastest and latest M.2 technology to enthusiasts who want to maximize their systems' potential. With new native CPU-direct PCI-e Gen4 x 4 supports latest Gen 4 NVME SSD, data accessing performance can be boosted up to 200%!
Experience Fast Like Never Before
DDR4 3200MHz
Join The Optane Revolution
Gigabyte GB-BSi5-1135G7 Commercial PC offers compatibility up to DDR4 3200MHz allowing for faster performance on your daily tasks.
Exclusive Dual M.2 SSD Design
Gigabyte GB-BSi5-1135G7 Commercial PC series offer the industry's best compatibility in terms of storage for users who demand high capacity and seek the best performance. GIGABYTE's unique design can offer up to 2 slots for M.2 storage devices driving the performance to new heights.
Connectivity
Gigabyte GB-BSi5-1135G7 Commercial PC series offer a plethora of available connections, supporting multiple ports from USB 4.0 and USB 3.2 connection all the way to Wi-Fi 6 connectivity to 4x HDMI ports, able to cover the needs of a business all the time.
* TPM module only available in certain countries, please check your local dealer for more details.
Thunderbolt 4
A truly universal cable connectivity solution for work and play.
One universal computer port so you don't need to remember what different ports do when they all have the same shape. Always 40Gb/s for connecting to compact and powerful Thunderbolt docks, displays, fast storage or any USB accessory. BRIX PRO supports eGPU box for additional 2D/3D performance gains.
Quad-Display Support (4x4K)
Gigabyte GB-BSi5-1135G7 Commercial PC series support up to 4 independent displays, through its 4x HDMI ports, with 4K resolution giving users the flexibility to configure their working environment without any limitation.
Intel Wi-Fi 6 802.11ax
Intel Wireless solution supports 802.11ax, enables gigabit wireless performance, provides smooth video streaming, better gaming experience, few dropped connections and speeds up to 2.4Gbps.
Intel 2.5 GbE LAN
Adoption of 2.5G LAN provide up to 2.5 GbE network connectivity, with at least 2 times faster transfer speeds compared to general 1GbE networking, perfectly designed for gamers with ultimate online gaming experience.
Support Multi-Gig(10/100/1000/2500Mbps) RJ-45 Ethernet.
TPM security chip onboard
Gigabyte GB-BSi5-1135G7 Commercial PC series offers another layer of security with the on-board TPM chip. The TPM securely stores your cryptographic key which can be created with encryption software such as Windows BitLocker. When using a TPM, the data on our PC will be safe not only from external software threats, but also physical theft.